Ukrainian honey wins British awards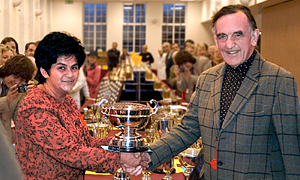 Ukraine wins 15 awards including two cups at the 77th National Honey Show in London.
Ukraine was represented at the world's oldest show of beekeeping products held on 29th October – 2nd November of this year at St. George's College in one of London's suburbs by delegation of the Brotherhood of Beekeepers of Ukraine:
Tetyana Vasylkivska

, Chairperson of the Brotherhood of Beekeepers of Ukraine

Anatoliy Kharkovenko

, member of the Board

Yurij Riphyak

, member of the Board

Mariia Guk

, member of the Board
Ukrainian delegation also included Vitaliy Pryymak, head of the Brotherhood's Volhynian Oblast cell.
The National Honey Show is held in Britain's capital for the seventy seventh time. The first show took place in 1923 at the Crystal Palace. Today, this contest which long became an international event is regarded as the most respectable in the world of beekeeping, and its awards are valued even higher than awards of the World Apimondia Congress.
Ukraine participated in this show for the first time in history and competed in as many as 36 nominations. Our representatives brought to London not only Ukrainian honey of different varieties but also honey beverages, beeswax products, artistic, didactic, and informational exhibits, and many other. The result was 15 awards including the National Cup for acacia honey in the best original packaging and the Ross Rose Bowl for the best composition which included: acacia honey, buckwheat honey, natural beeswax nationalcup, and two meads. In addition, we received in different nominations 3 first prizes (in particular, for linden honey and wax nationalcups), 4 second prizes (in particular, for dry mead), 1 third prize, and 5 "Highly Commended" certificates.
During award ceremony our delegates have officially announced introduction of a new National Honey Show award in the Foreign Honey nomination. They deserved this right by winning first prizes in all nominations for participants from outside the British Isles. This award will be called the Medal of Ukraine. The Ukrainians have officially donated all prize money received at the Show to the fund of the new award. Also, this year 10 medals will be made from silver in Kyiv and sent to London, which means that for the next 10 years starting from 2009 the Medal of Ukraine will be awarded at the show in Britain.
Reference:
The 40th World Apimondia Congress held in September 2007 in Melbourne, Australia recognized Ukrainian acacia honey the best in the world. At that time, Ukrainian delegation which also included representatives of the Brotherhood of Beekeepers of Ukraine had won 8 awards in total: 4 gold and 4 bronze medals plus the crown of the Apimondia Honey Queen. Ukrainian honey and mead which then received gold medal have proved their best quality in the world by winning awards of the London show.